The Traffic Jam and Snug restaurant
isn't just a restaurant. It's also a microbrewery, Michigan's first. It's also a bakery... and it's also a dairy. It's really like a cell phone... that's also a camera (thanks Mike Birbiglia).
We decided to stop in after the Corktown celebration because of the host of people in Corktown we figured this mid-town restaurant would be significantly less populated, and we were right. Located on Canfield just west of Woodward in the mid-town area of Detroit, the Traffic Jam and Snug sits across from
Motor City Brewing Works
and is (still have to visit this place) far less noticeable from the outside. Inside I couldn't tell if it was a meat and potatoes type steak house (lots of wood and brick) or a down home country type Applebee's (lots of random stuff on the walls). Turns out it is a great little treasure with original recipes made from scratch.
When we arrived we had to wait a little bit for a hostess to seat us. But while we waited we saw one group ahead of us (mostly senior citizens) get seated and then a bus load of them (senior citizens) came in right after that. I don't know what the deal is but apparently the older fold LOVE this place. The bus groups said they come every Sunday... wild and crazy kids.
We were there for a late lunch and I will say I was a left wanting more options from their lunch menu. They had a ton of appetizers but not that many sandwiches and the entrees were a little pricey ($15-$20 for lunch). Plus you don't automatically get fries with your sandwich. They also only had 2 of their microbrews available, I don't even think those that we ordered are on their website.
For lunch I had the chicken and black bean nachos and they were fantastic. There was just the right amount of melted cheese on top and with salsa, sour cream and diced jalapenos the only way to describe them is fantastico! The IPA they brew there was also a pleasant surprise. Hoppy and bitter but just what you want from that kind of beer. Before we got our food the waitress brought out some free bread that they make fresh there everyday. It was some sort of cheese bread that was so good we had to ask for another basket right away.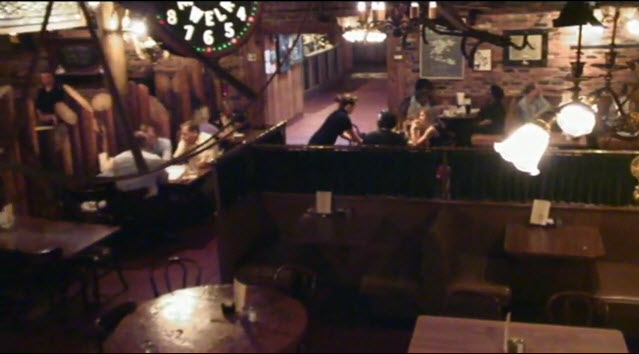 Although it may sound like I am griping about this place I did love it. When you walk in you feel like you are in a different world. The atmosphere is like the cross between medieval castle and 1960's family restaurant. Our waitress was a little odd, but a good odd. It was like she was probably a city dweller of Detroit and very interesting. Somehow at Traffic Jam it all makes sense and delivers a restaurant experience like none other. What is for sure is that I felt like a total tourist at this place but I would like to be a regular. But don't take my word for it. Get downtown and support Detroit by visiting this rad restaurant!